The Western chapters of ARMA Canada are working together to bring back a regional conference in Kelowna in October 2022.
About this event
ARMA Canada was established as an ARMA International region in 1968 and currently has almost 1000 members. In collaboration, ARMA Canada's five western local chapters (Vancouver Island, Vancouver, Calgary, Edmonton, and Saskatchewan) will be holding a Records and Information Management conference at the Coast Capri in Kelowna, October 5-7, 2022.
This conference is themed "Wine-ing About Records," a reiteration of the very successful Whining about Records conference held in 2010. Also held at the Coast Capri, the conference was intended to provide an opportunity for members and non-members from a variety of professional backgrounds and levels to expand their Records and Information Management (RIM) knowledge, meet with exhibitors and network with their peers. Feedback was incredibly positive and after ten years of receiving continued requests to do it again, we're well on our way to making it a reality.
Agenda
The conference will take place over three days with sessions applying to three themes:
Records Management Basics
Records Management in Indigenous Organizations
Special Topics
We also will have special events planned including:
Rooftop Welcome Reception at CRAFT Beer Market on Wednesday, October 5, 2022.
Expo Hall of local vendors and business owners open throughout the conference.
Wine Tour offered by Sip Happens on Thursday, October 6, 2022. (additional fees required)
Networking opportunities throughout the conference!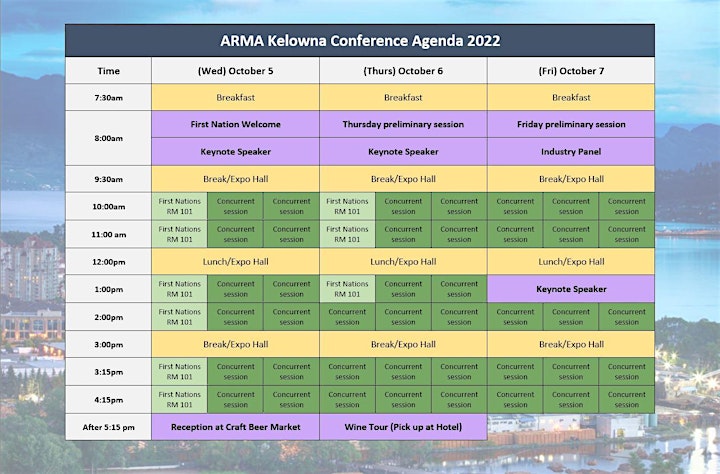 Where to Stay
Staying at the Coast Capri is the most convenient option! You can book at the reduced conference rate at the following link until inventory runs out here. Kelowna is a popular tourist destination, and there are many options for your stay should you choose another location!
Vaccinations
Attendance to the conference is subject to local health authority requirements. We recommend planning for vaccination requirements to be in place, including providing proof of vaccination, during the conference.
Refunds
Refunds are available upon request within 30 days of the conference, minus Eventbrite's non-refundable administration fee. Within 30 days of the conference, registration may be transferred.